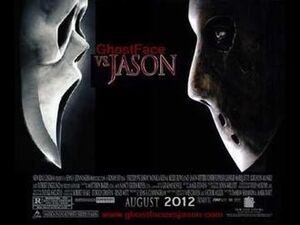 Ghostface vs. Jason: Friday Slashers is a crossover story written by SammyChance. This story is a crossover with the Scream and Friday the 13th franchises.
Characters
Edit
Ghostface
Jason Voorhees
Sidney Prescott
Gale Weathers
Tommy Jarvis
Steven Freeman
Johnny Chanceman
Deputy Dewey Riley
Ginny Field
Trevor Sheldon
Mr. Prescott
Sheriff Hudson
Phil
Jessica
Nick
Pamela Voorhees
Maureen Prescott
Chapters
Edit
Chapter 2: Another Slasher
Chapter 3: Victim Problem
Chapter 4: The Coroner
Chapter 5: A Vision from the Murdersverse
Ad blocker interference detected!
Wikia is a free-to-use site that makes money from advertising. We have a modified experience for viewers using ad blockers

Wikia is not accessible if you've made further modifications. Remove the custom ad blocker rule(s) and the page will load as expected.